Image

NO PLACE FOR HATE
Join the 1800+ schools challenging bias!
No Place for Hate Kick-Off
Please join us as No Place for Hate® schools from across the nation on come together with special guest, Jonathan Van Ness, Emmy-nominated television personality and LGBTQ+ advocate. This virtual event is on Thursday, October 12th at 12 pm ET (11 am CT, 10 am MT, 9 am PT) for 4th-12th graders and educators who are passionate about exploring allyship, challenging bias and bullying and building more inclusive and equitable schools. 
No Place for Hate Kick-Off
Image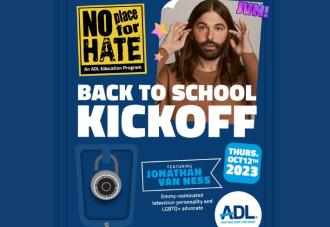 Build a learning community of inclusivity, respect and equity.
Every person in your school has a role to play.
Designed to work for YOUR school.
Engage students and staff in dialogue and active learning on the topics of bias, bullying, inclusion and allyship that matter most to your community.
Image
Join the Movement
Over 1.4 million students supported by 100,000+ educators learned how to take action against bias and bullying in the last school year across more than 1,800+ schools.
Image
Check out what participating schools are saying about No Place for Hate.
Watch Video
Unite your programming under one powerful message.
Incorporate new and existing programs into No Place for Hate.
This work is made possible in part by the generous support of
Bank of America 
The Choose Kindness Project 
Coca-Cola Foundation 
Northrop Grumman 
Howard and Geraldine Polinger Family Foundation 
SNCF Americas