Image

NO PLACE FOR HATE
Join the 1800+ schools challenging bias!
Join us on October 13th at 11 am CT, 12 pm ET, 10 am MT and 9 am PT as No Place for Hate® coalitions from across the nation come together with Laurie Hernandez to explore identity, perseverance, and allyship. This virtual event is for 4th-12th graders wanting to build more inclusive spaces.
Image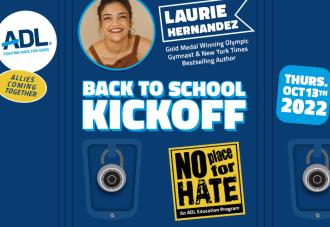 Build a learning community of inclusivity, respect and equity.
Every person in your school has a role to play.
Designed to work for YOUR school.
Engage students and staff in dialogue and active learning on the topics of bias, bullying, inclusion and allyship that matter most to your community.
Image
Join the Movement
Over 1.4 million students supported by 100,000+ educators learned how to take action against bias and bullying in the last school year across more than 1,800+ schools.
Image
Check out what participating schools are saying about No Place for Hate.
Watch Video
Unite your programming under one powerful message.
Incorporate new and existing programs into No Place for Hate.